‼️ This site contains nudity 🙈 Do not access this site if viewing it causes a violation of law or emotional distress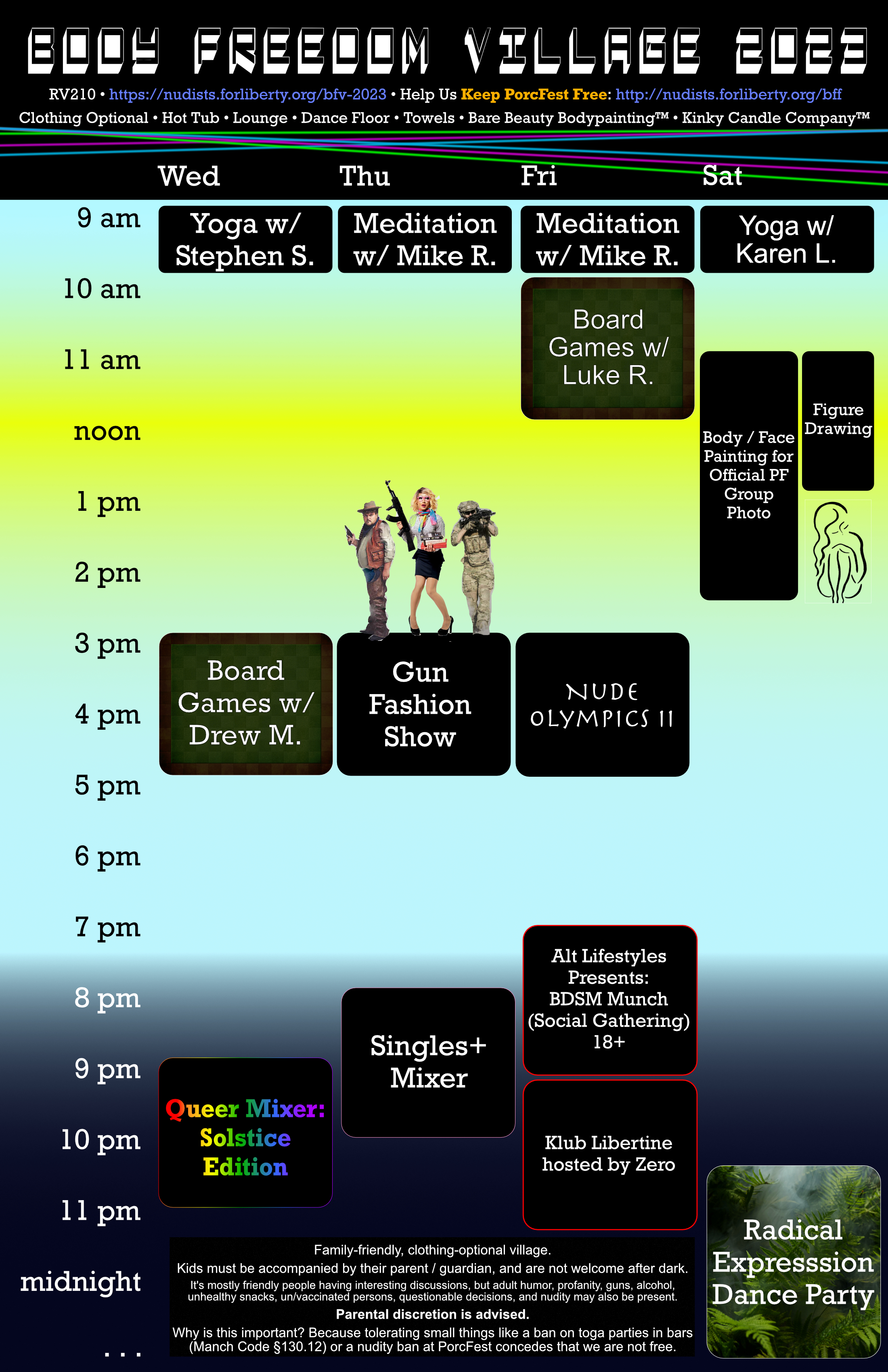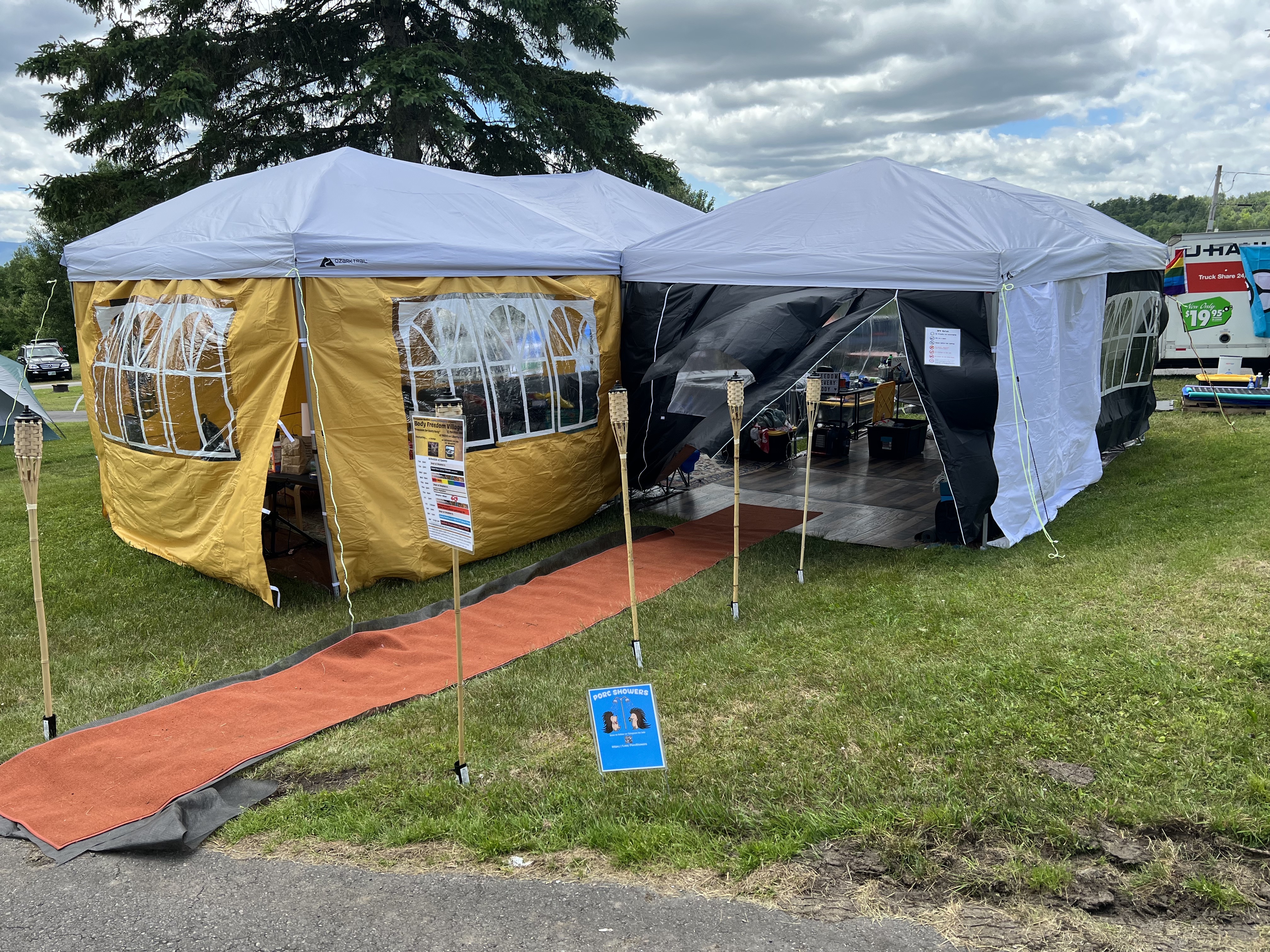 Body Freedom Village will be back for its third year at PorcFest XX this year!
BFV brings fun, uncommon experiences to PorcFest to further its mission to create a radically libertarian homeland. Specifically, it welcomes all friendly PorcFest participants to do yoga, hot tub, lounge, play games, dance, and mingle at a clothing-optional camp. For the full why of BFV, visit the FAQs.
This hub provides a community where people can be themselves! BFV is open to friendly people regardless of gender, body type, sexual orientation, religion, etc. For safety, kids must be accompanied by their parent / guardian during the day, and are not welcome after dark.
🚨 We need your participation to make it happen! To camp, volunteer, host, or vend (e.g., massages, food, merch) at BFV, contact Jeff or fill out the camper application form.
BFV is a gift to the Free Stater community from Jeff, the campers, the volunteers, the participants, and the donors. Please consider donating to make BFV sustainable! Zcash address: u10gpea9gmz45a4wzhzpwehydatx0raqfv08jd04gx8ngkmr3y7az7ca705kgygvmu7wq6yf4jt6aajm6jwp7th9r2kvmdte99lcqe05um!
Jeff Y. is the organizer behind Porcupine Nudists / BFV. He's an ancap that signed the pledge in 2016 and moved from San Francisco to the Freecoast in 2021. He hopes to bring freedoms to NH to help make it the freest place in the world, not just the freest place in the region! Also, check out the Unofficial Guide to Art at PorcFest 2023!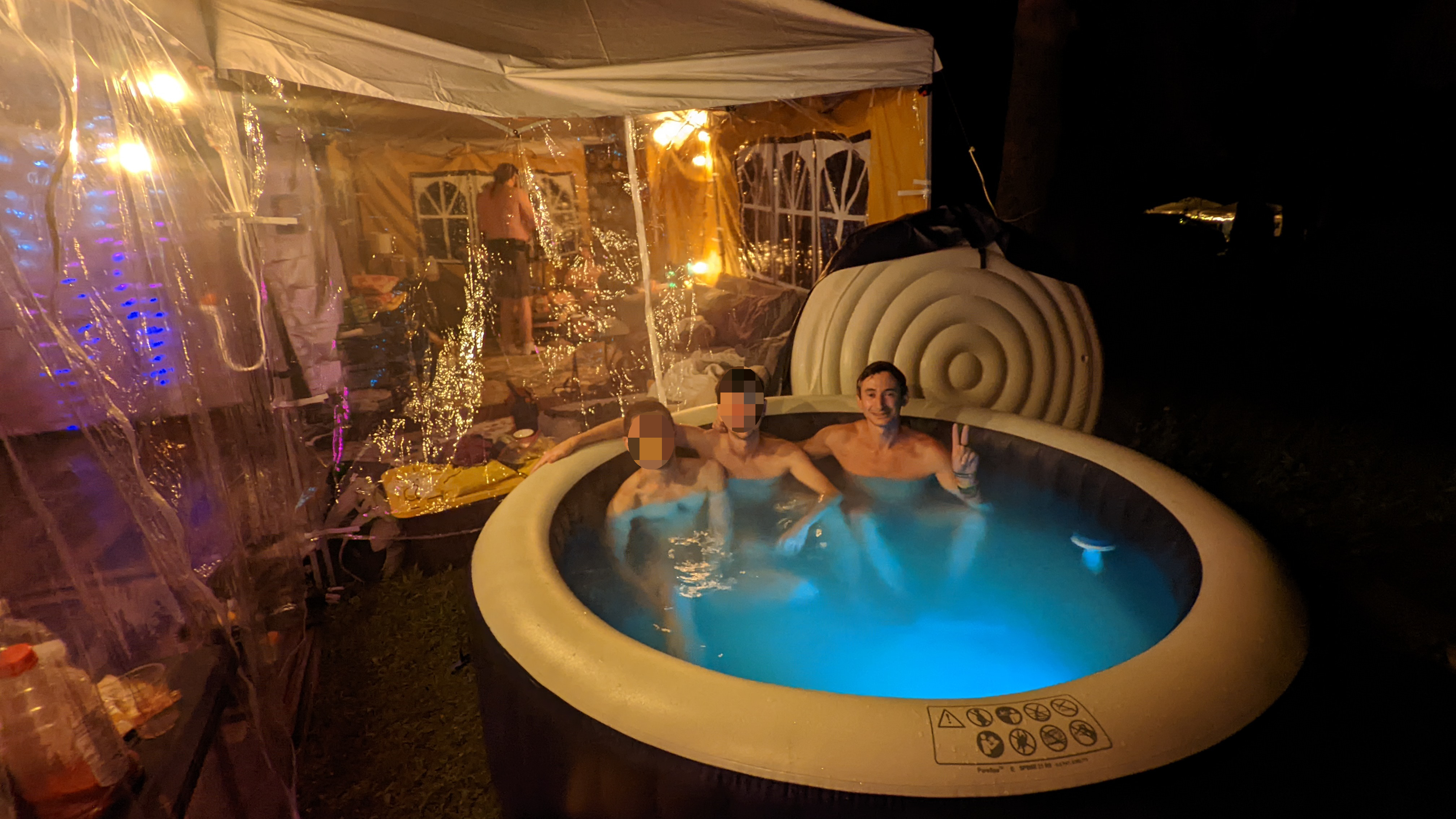 The hot tub is immaculately maintained by Greg M. A shower is required immediately before entering the hot tub. The hot tub is nude only.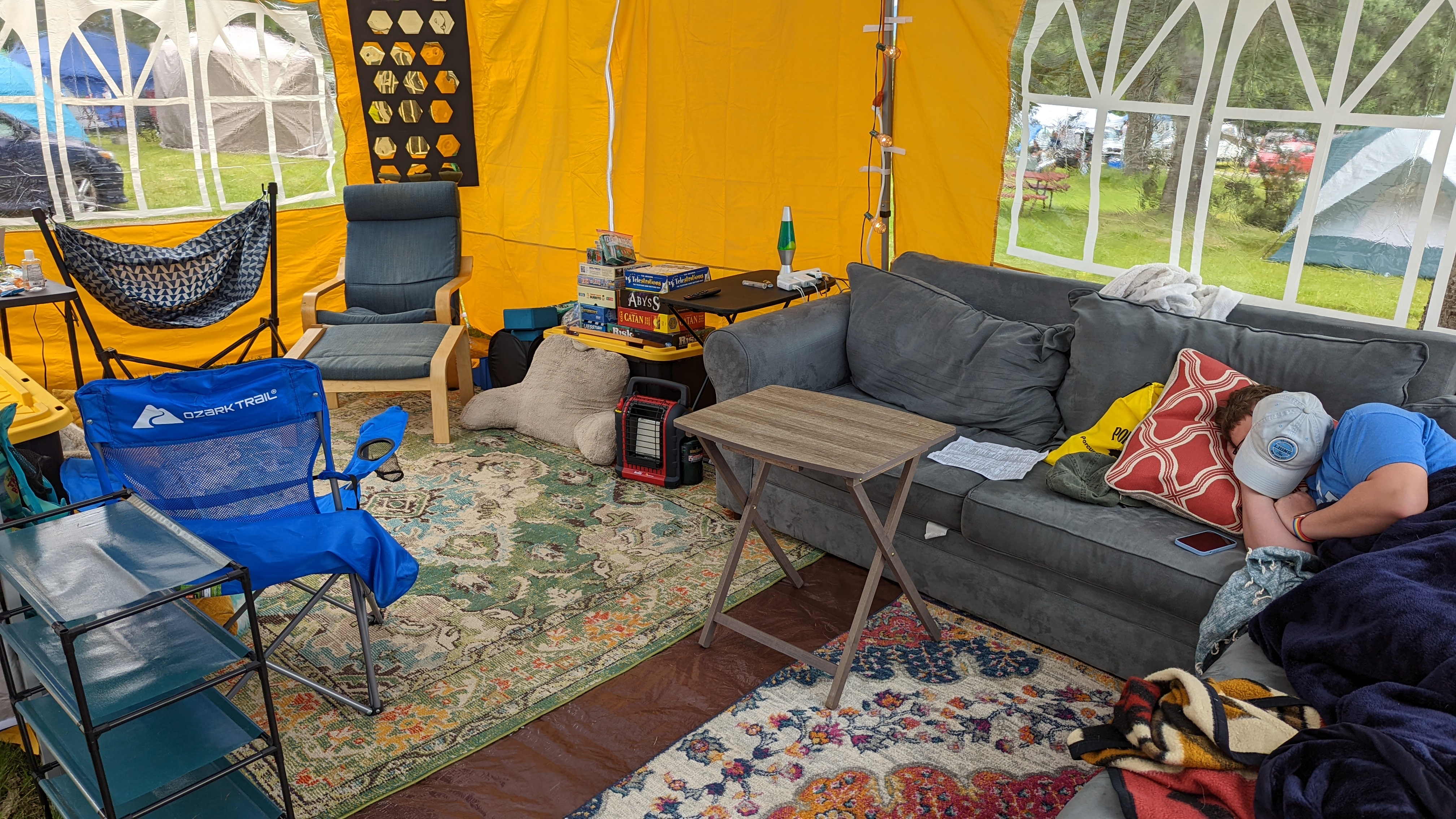 No shoes in the lounge!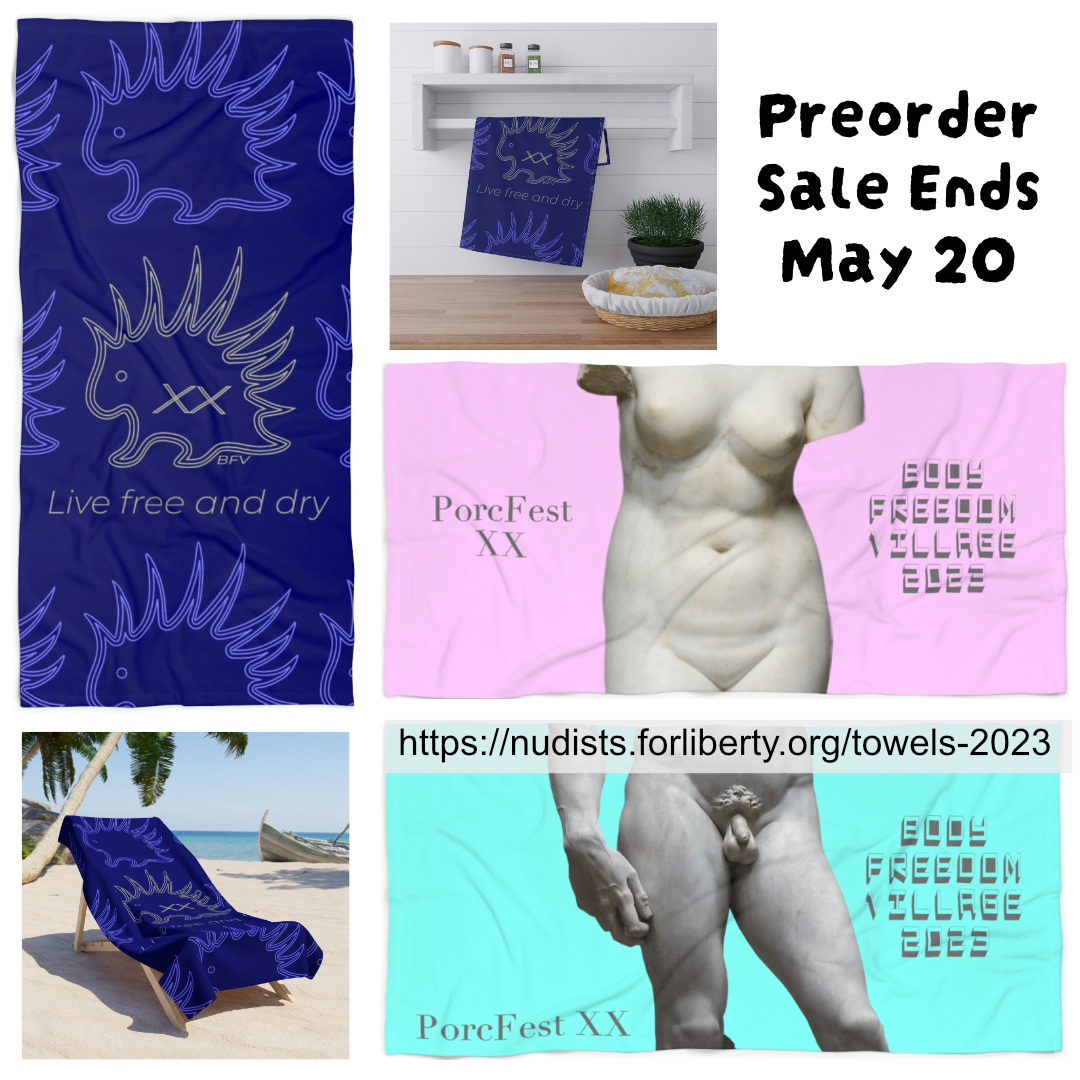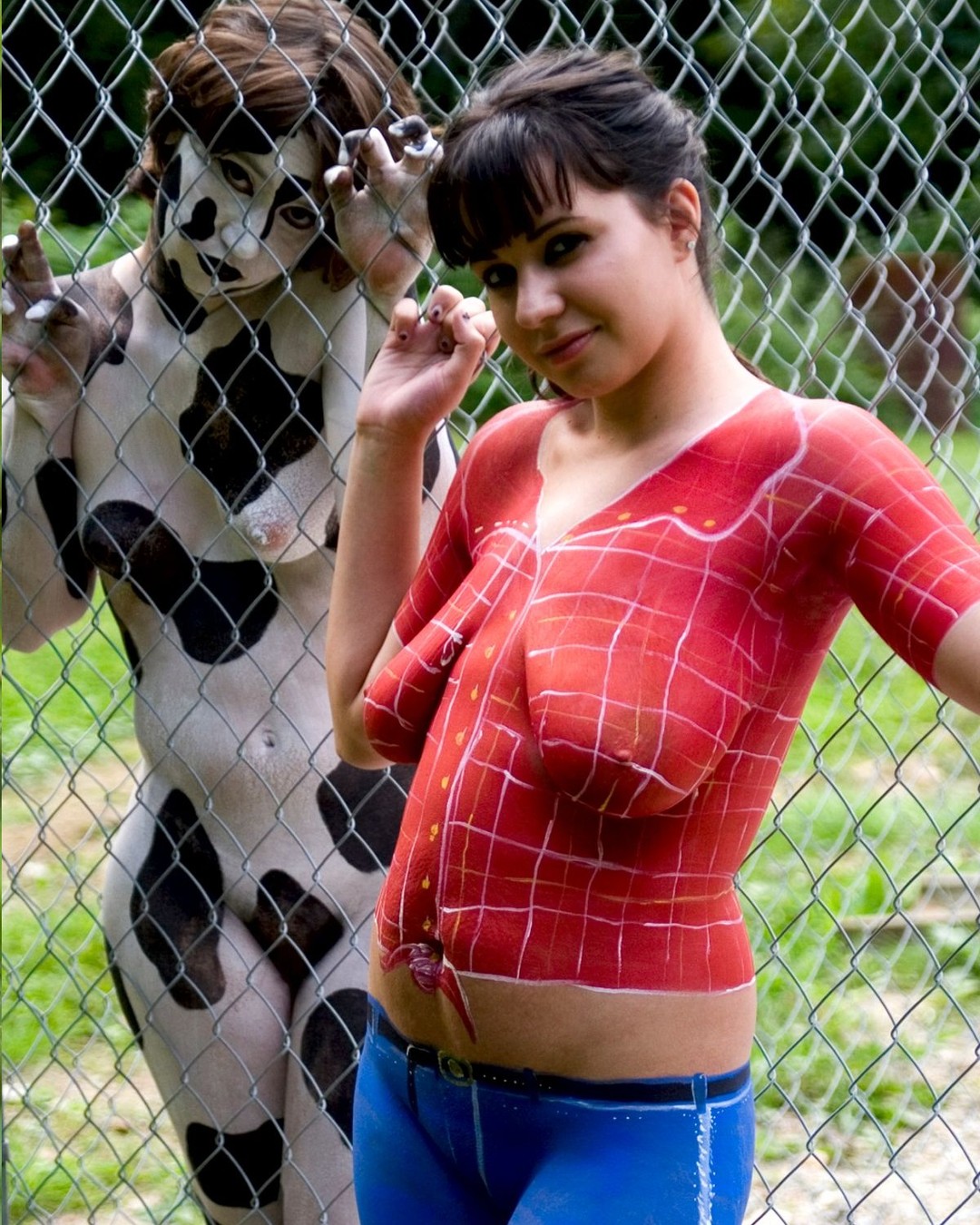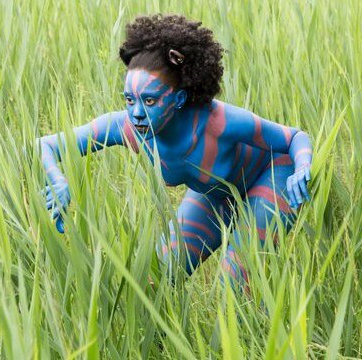 Join Bare Beauty Bodypainting for an interactive immersion into the world of art and color. Watch as art comes alive on the human body, or perhaps even join in to become the art you've been admiring.
Eric S. is a professional bodypainter. As a first time attendee of PorcFest, he hopes to make an immediate and lasting impression by bringing the colorful art of body painting to the event.
Throughout the week he will be conducting live body paint demonstrations as well as offering various themes and sizes of body paint designs for other attendees, including wild animals, mystical creatures, superheroes and painted on clothing and costumes. Prices and times for designs range from:
$75 for chest art (45-60m)
$100 for upper torso (90-120m)
$150 for full body (2-3hr)
He also accept goldbacks and silver. If you have any questions please contact Eric. You can also check out his work on Instagram.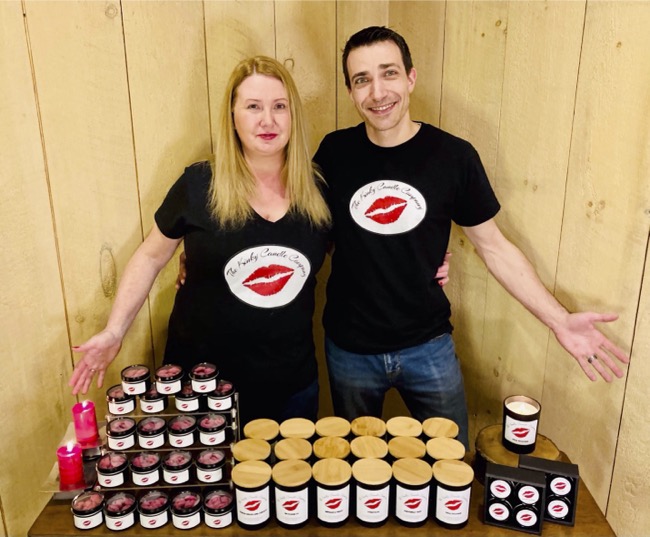 We are the Kinky Candle Company. Run by a liberty loving Husband and Wife team, we specialize in candles and wax melts that enhance the ambiance of those special moments. Our products are hand poured in Randolph, NH in our home studio beneath the Northern foothills of the White Mountains. We use only the finest ingredients and all of our products are 100% paraffin free. In addition to our scented line, we also offer unscented wax play pillar candles in Red and Black. We will also be selling wick trimmers as well as other unique items that accompany our products well. We hope to see you at our tent and you can always check out our products year round at www.kinkycandlecompany.com 💋
Have an idea or want to collab on an event? And, we're always looking for vendors and volunteers! Contact Jeff!
The hot tub and lounge are open whenever the space isn't in use, and there's a BFV villager around to guide you. Approx 9 am - 2 am daily.
Wednesday, 9:00 am w/ Stephen S.
Saturday, 9:00 am w/ Karen L.
A soulful morning yoga practice in the comfort of your own skin, led with intention by Stephen S. and Karen L.
Judgement free practice for all skill levels, body types, etc. Kids must be accompanied by parent.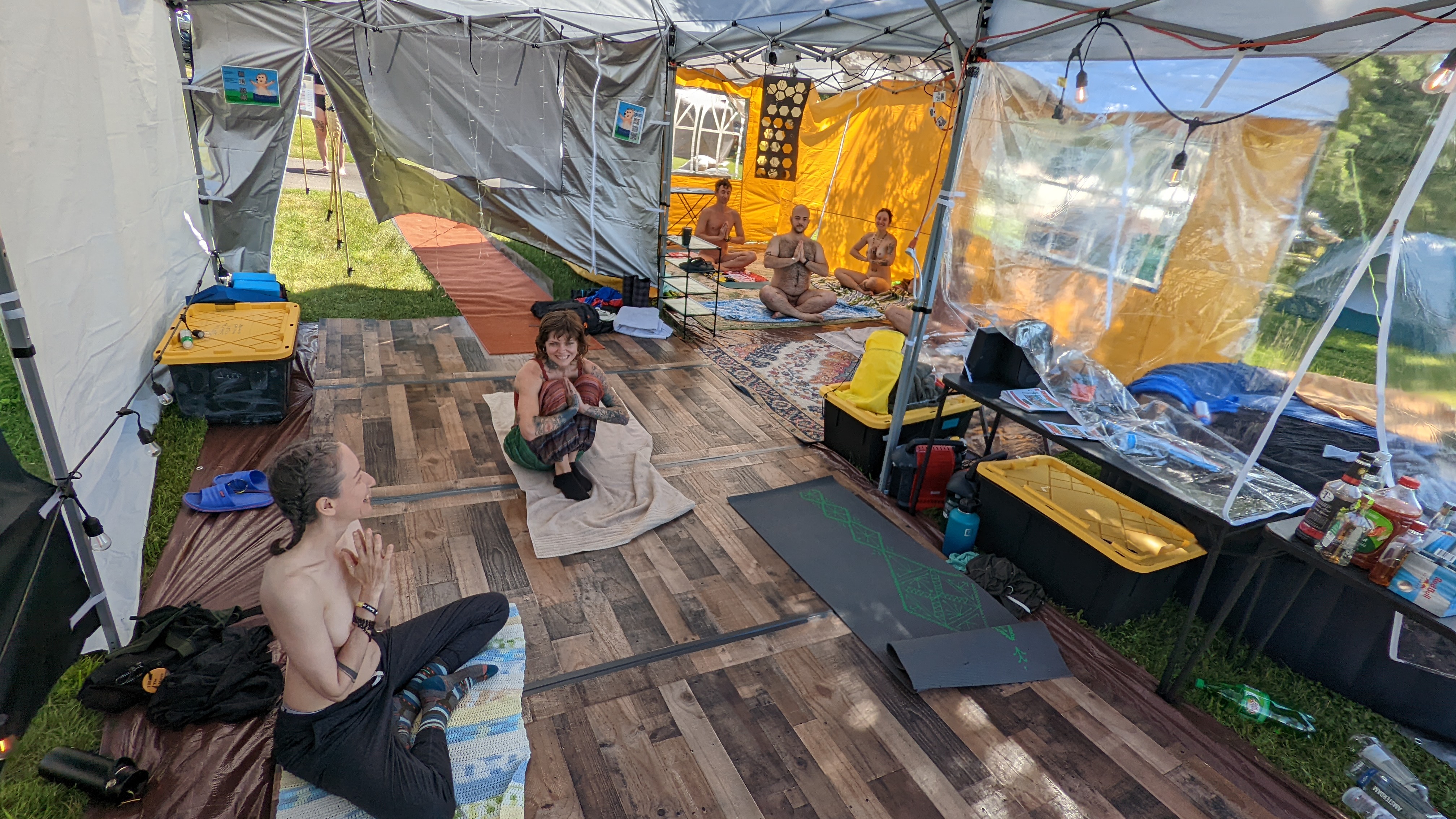 Wednesday, 3:00 pm
Friday, 10:00 am w/ Luke R.
Come play board games at the most friendly, welcoming camp at PorcFest! As comfy as playing at home but with lots of new friends, feel free to get nekkid, grab some blankets and pillows, and dominate your competition in Catan (or whichever games you decide to play). Hot tub should be open!
All friendly bodies welcome; kids must be accompanied by a parent. This is a family-friendly event in a clothing-optional village.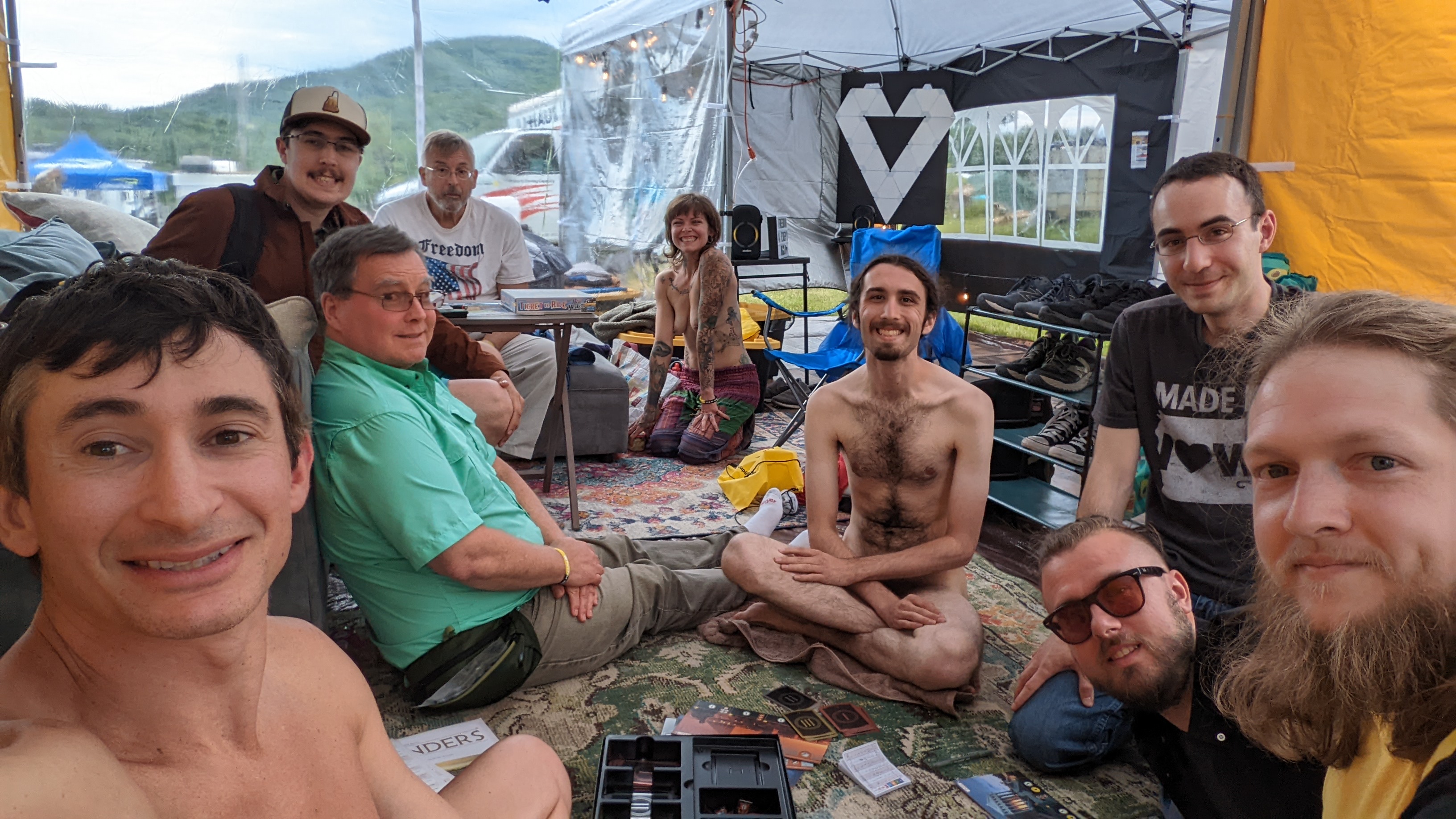 Wednesday, 9:00 pm
Come meet and mingle with other queer porcupines at the friendliest camp of them all, Body Freedom Village! You can dance if you want to, or you can stargaze from the hot tub under the solstice moon. Celestial outfits encouraged!
Camp is clothing optional. Self expression is encouraged and all body types are welcome. This event is 18+, as is BFV after sunset.
Thursday, 9:00 am
Friday, 9:00 am
Join us as we reconnect with the ever present simplicity of being. Non-judgmental present moment awareness. All experience levels will be embraced as Mike R. invites you to join him on a spontaneous journey into the interior.
Michael Rohan is a meditation practitioner of, woah, eight years already. He has Shambhala level one, and has sought guidance and inspiration from Jon Kabat-Zinn, John Vervaeke, as well as others.
Consider taking advantage of the meditation location, BFV, as you will be free to dress according to your comfort and preference.
ξενία: All who come in peace are welcome here
This is a family-friendly event in a clothing-optional village. Kids must be accompanied by parent.
Feel free to reach out for any reason to Mike at 6039320243, especially if this will be your first mindfulness meditation for preemptive encouragement. Please bring your own meditation cushion, blanket, pillow, chair or whatever you'd like to sit comfortably.
If arriving late or leaving early, please simply be courteous of other mediators.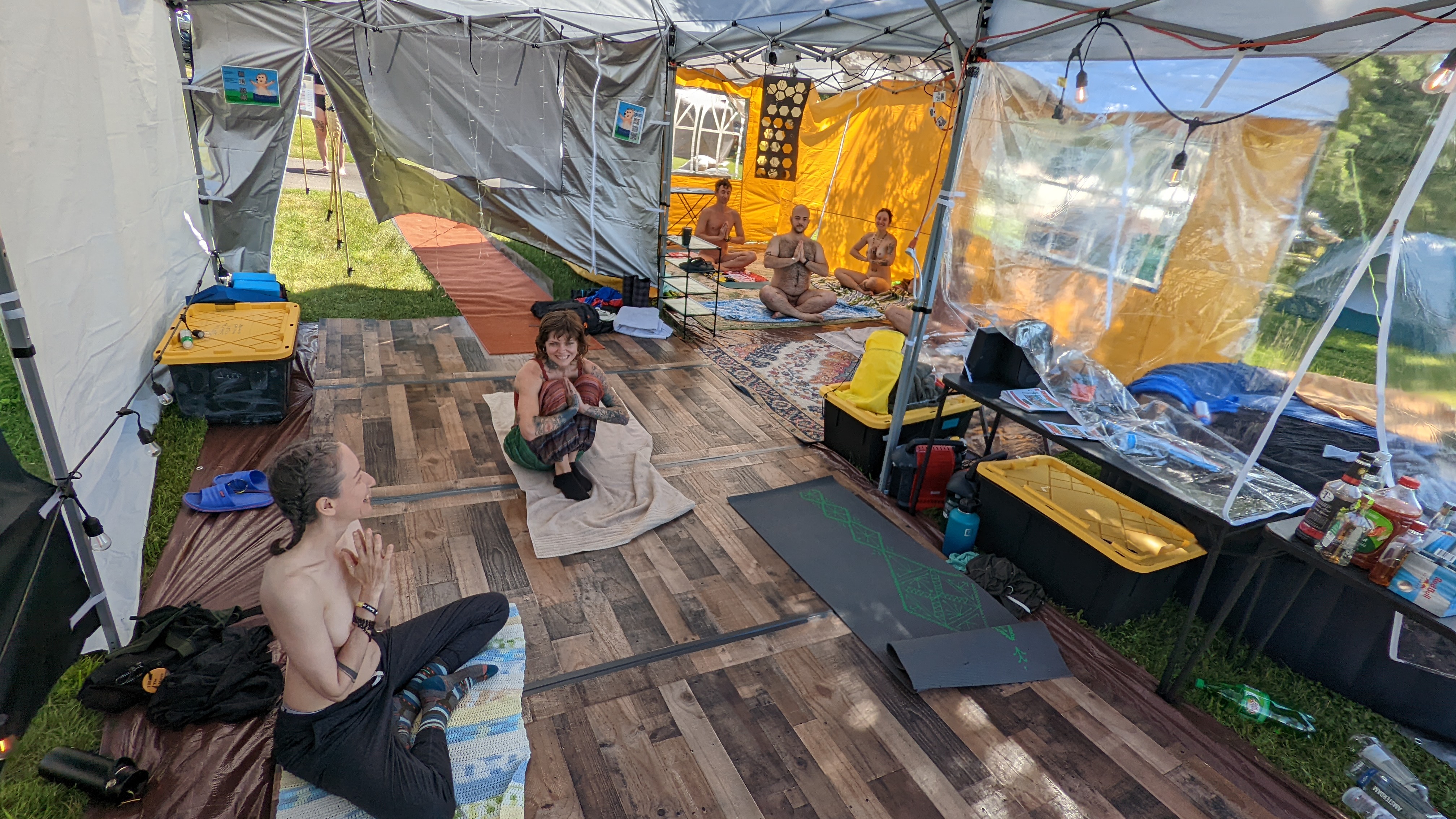 Thursday, 8:00 pm
Come meet and mingle with other single+ porcupines at the friendliest camp of them all, Body Freedom Village! (The "+" is for couples wanting a polycule, etc.)
If there's just a few people, we'll lounge, hang out, and play some games. If there's a bunch of people, then get ready to dance! With any luck, hot tub will be ready to go!
Camp is clothing optional. Self expression is encouraged and all body types are welcome. This event is 18+, as is BFV after sunset.
Thursday, 3:00 pm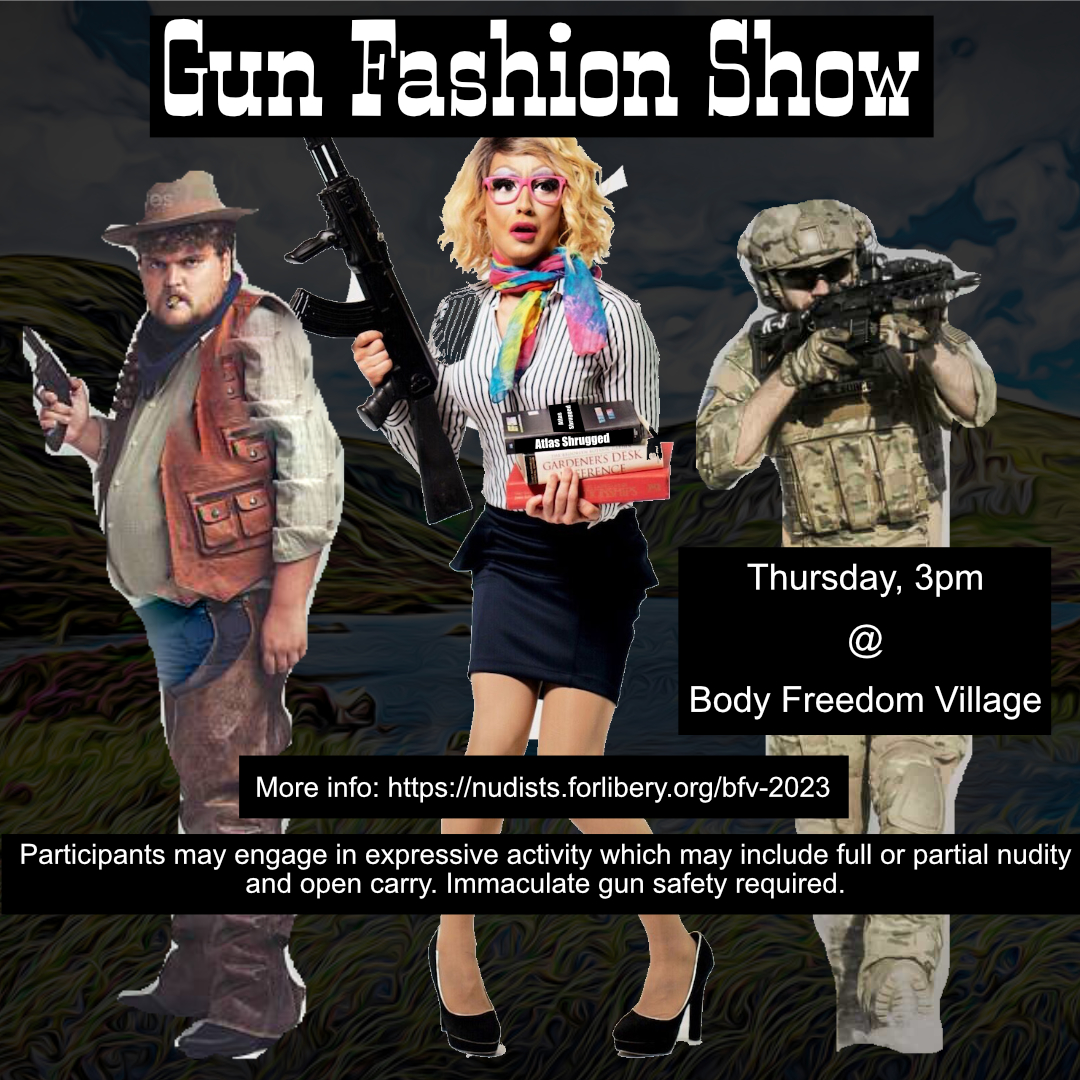 "I haven't put much thought into my attire + gun + holster," said no libertarian ever.
Do you have so much camo that you need to strut down a runway for anyone to notice you? Want to show off how you can carry a BFG while wearing 6 inch heels? Want to show the best solution you found for a nudist to carry? Perhaps you fashion yourself a cowboy?
Then come on down to Body Freedom Village to showcase your (bits and) pieces!
For those that want to express or exaggerate their feminine side, wigs and makeup will be available.
Please arrive early if you want to walk the runway. We'll probably start late!
Toy and water guns are acceptable. Immaculate gun safety handling required.
This is a clothing-optional camp. All friendly bodies are welcome; kids must be accompanied by a parent. Parental discretion is advised. Trigger warning: guns, nudity, and adult humor.
Friday, 3:00 pm
Does your paleo diet make you an ideal human specimen? Does your mastery of stoicism enable you to perform superhuman feats of strength? Is winning the only outcome Rand would find rational?
Then put your mettle to the test at the Nude Olympics at Body Freedom Village for your chance to win a collectible certificate of accomplishment! Last year, Goldbacks also sponsored real gold and silver prizes!
Everyone is encouraged to participate, regardless of athletic prowess!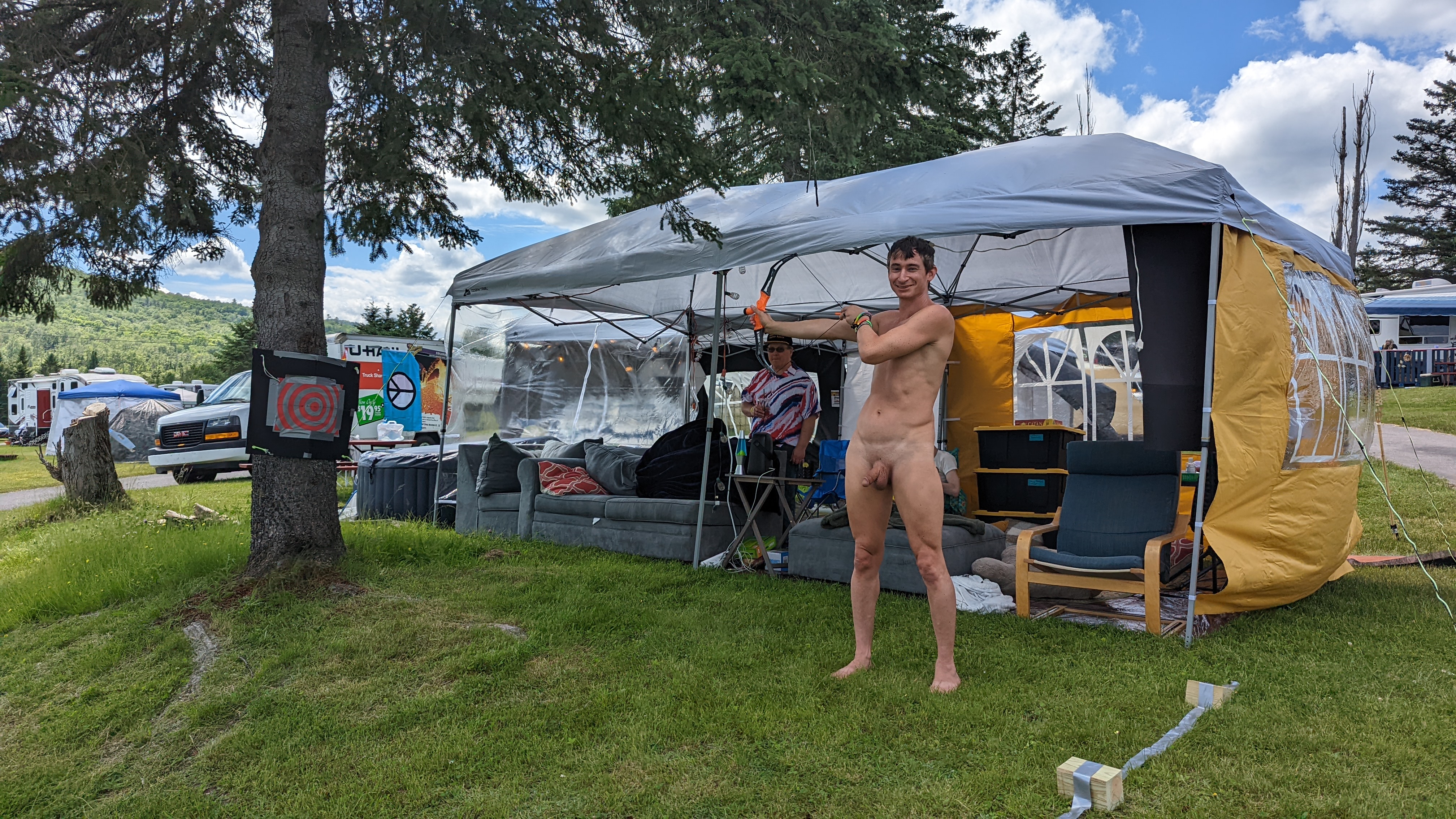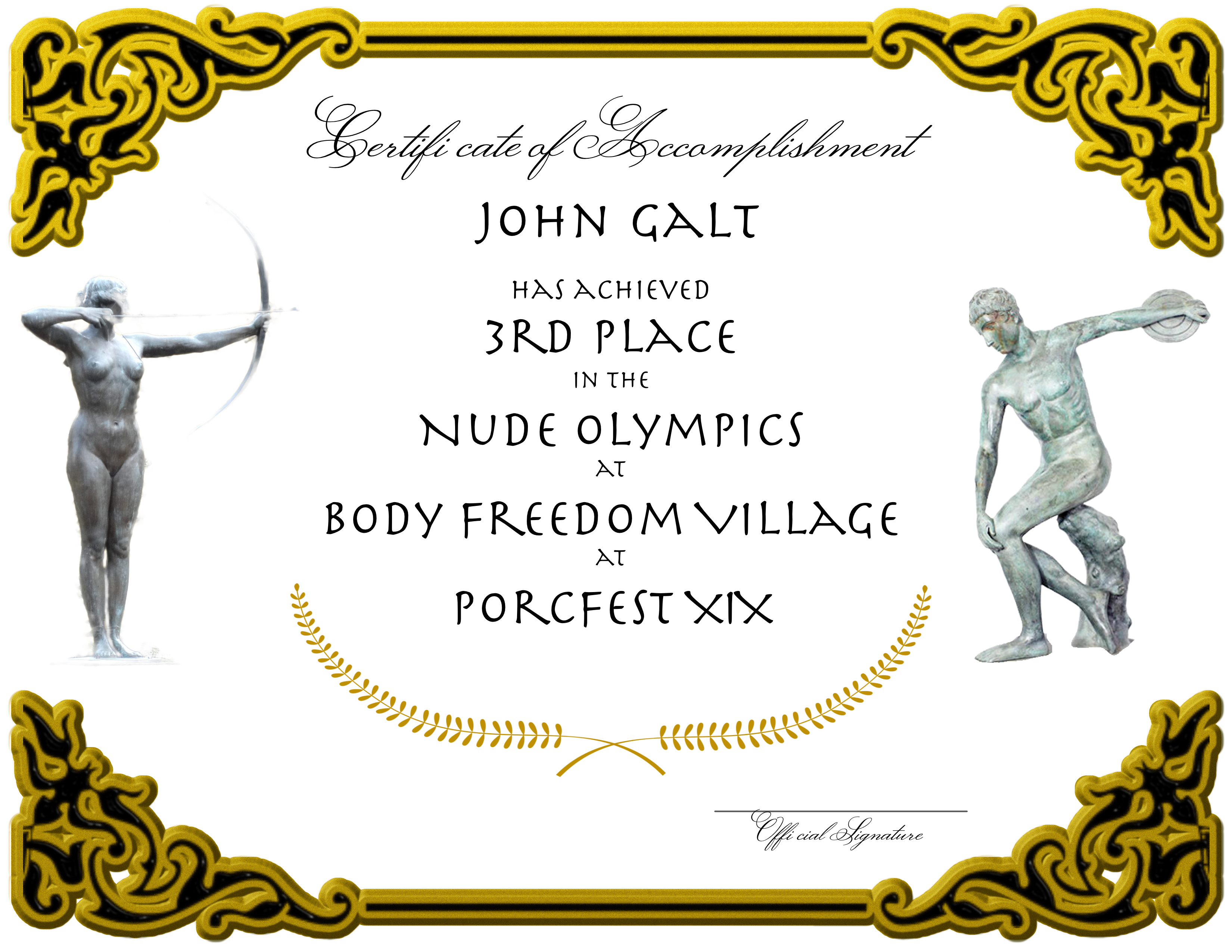 Friday, 7:00 pm
For Whom: Alt lifestyle is for the queer, the kinksters, the outliers, the seekers of experience
Description: We are back again for PFXX! Alt-Lifestyles presents the freest munch on the planet. Come one and all! Interested in moving to NH but concerned you won't find like-minded people in leather or latex? We are here, and come from a vibrant and growing scene. Living in NH already but missing that spark of S&M? Meet your fellow explorers in outer experiences and see where we have been hiding. While here, thank our fabulous hosts at BFV and experience the finest hot tub at PorcFest.
This event is 18+. It is hosted for the landless AltLifestyles Hub, organized by Chris AKA Strictlwicked. Contact Strictlwicked for more details.
Saturday, 11:00 am
Paint or get painted to show off your radical individuality for the Official PF Group Photo!
All friendly bodies welcome; kids must be accompanied by a parent. This is a family-friendly event in a clothing-optional village.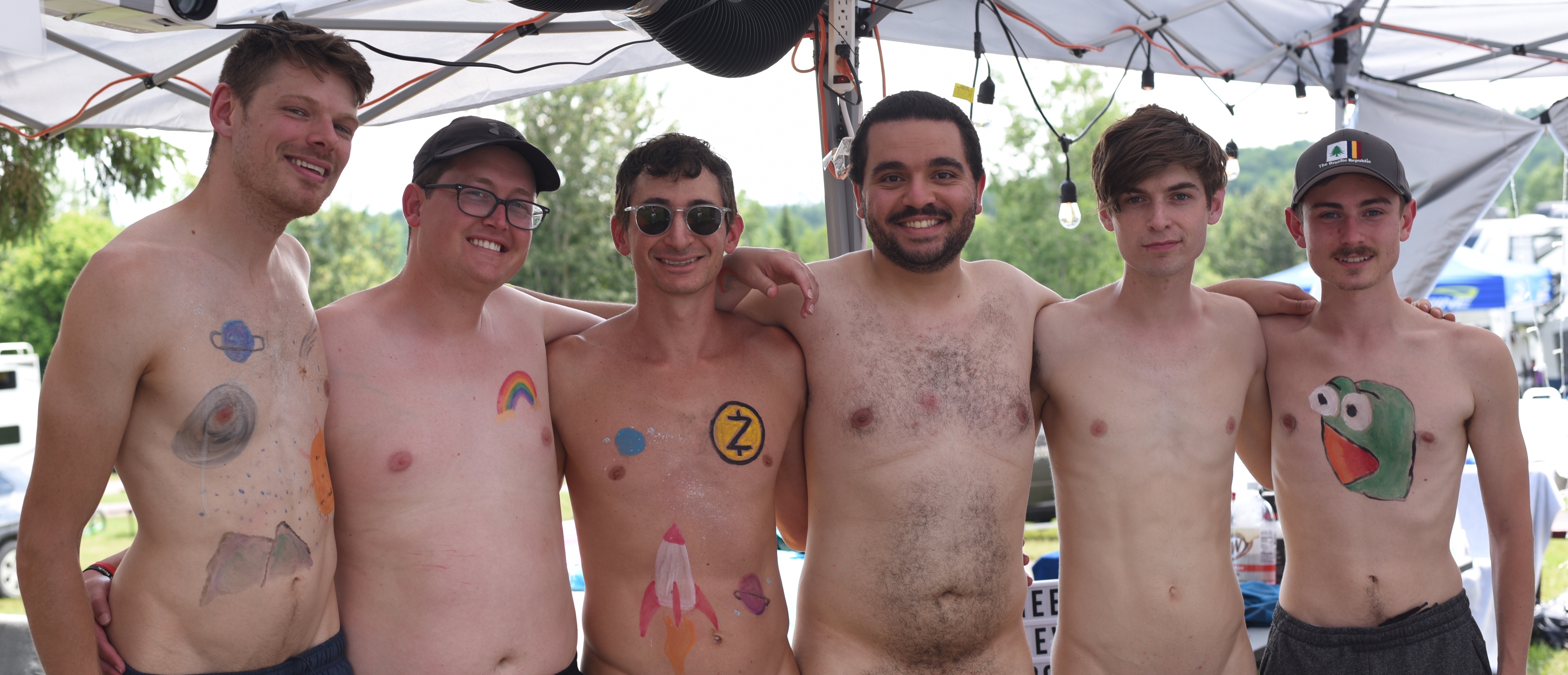 Friday, 9:00 pm
Stay tuned for details.
Saturday, 11:00 am
There is a long and deep history of artists drawing the nude figure. This is your opportunity to draw a live model in that tradition. No experience necessary! 30 min of instruction will be offered, and followed by a 90 min drawing session.
This event is for artists and anyone who wants to try drawing. You don't need any experience with drawing to participate.
Kits including a sketch pad, 2B pencil and kneaded eraser will be available for $10 if you don't have your own supplies. The class is otherwise free.
Saturday, 10:30 pm
It's the last night of PorcFest, and your last chance to celebrate freedom until 2024! We'd love to see you in your favorite Victorian cage crinoline, your pirate costume, your fairy wings, your neon body paint, or your birthday suit!
This year, the dance floor will be adorned with blacklights and jungle decorations. If you want to be camouflaged, consider dressing up as a safari hunter, or getting body painted as a jungle animal! Professional body painter onsite!
Come dance at the friendliest camp at PorcFest, or warm up in the hot tub (assuming it hasn't popped yet!). Either way, have fun and omg please help us consume our remaining snacks and bevys!
This year we are honored to have guest DJ Roodless Cosmopolitan. DJ Rootless Cosmopolitan is a DJ and VJ at venues around the world, including being a resident at Eighteenth Street Lounge (Washington D.C.), Red Pearl (Huntington Beach, CA), and Ibiza (Huntington Beach, CA), and a guest at JetSet (Moscow), Lazarum (Dubrovnik), Lounge (Beijing), and the Sheraton Hotel (Doha). Music styles range from San Francisco style deep house to Berlin-style techno to dreamy global soundscapes with fat basslines.
Camp is clothing optional. Self expression is encouraged and all body types are welcome. This event is 18+, as is BFV after sunset.